Animal Rights Activists Targeting Scientists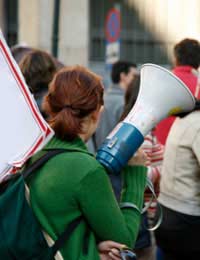 Although polls show that most of the public support peaceful animal rights protests, there are unfortunately a number of groups that use aggressive, intimidating tactics to attack or threaten scientists who conduct animal testing. Sadly, these activists put a dark cloud over the other individuals who are against animal testing but show their opinions through peaceful means.
Recent Animal Rights Activism and Intimidation
When most of us think about aggressive animal rights activism, we probably imagine that activists are targeting scientists who are conducting experiments on non-human primates, dogs or similar species. In a recent event, this was far from the case. In the United States, a bomb exploded on the front porch of a neuroscientist in California, while his family was sleeping inside the home. To further add to the incident, a second scientist had his car burned and a third received a threatening phone call.
Yet, all of the scientists study brain development using mice and fruit flies, not the larger mammals that we might expect would spur the angry actions of animal rights activists. The incidents are all part of a bigger issue, which has seen the past year and a half involving vandalism and aggression directed at a number of researchers in California. It is particularly ironic if you consider that the Animal Liberation Front cite that all creatures have a right to life and liberty.
Protecting Scientists and Researchers from Activists
The issue of protection has now become a major one. In fact, it is also an expensive one because protection is quite costly and challenging to provide to scientists and researchers who conduct research through the use of animal testing. Researchers and scientists now have to fear for their lives and the lives of their families, while they attempt to complete research that is meant to improve the quality of human life.
When unethical animal testing does occur, these isolated incidents are jumped on by animal rights groups and then exaggerated and inaccurately reported to further their cause. The vast majority of scientists and researchers care about animals and they conduct animal testing and research under strict regulations in Britain and North America.
Here in Britain, there has been somewhat of a decrease in aggressive, illegal animal rights activism. At one point, animal rights activists were targeting the computers and data of scientists but changes to security and data protection have helped to prevent these kinds of occurrences. However, the controversy and anger has not disappeared and there are still those activists who are prepared to commit illegal acts with the idea that their actions are justifiable in the goal of saving animal lives and reducing animal suffering.
Protecting Scientists by Condemning Aggressive Activism
Ultimately, aggressive animal rights activists do not truly draw light to the plight of animals. Instead, they only lose their credibility by harming human life, which is ironic given that they are protesting against the suffering and loss of animal life. Hopefully, the public and law enforcers will continue to approach aggressive and illegal activism with disdain. Instead, perhaps animal rights activists can find peaceful and effective ways to reduce animal experimentation and protect animals.
You might also like...
I think they should do this because it is cruel against animals.??
The Jimmister
- 7-Jul-17 @ 12:15 PM