History of Protests Against Animal Tests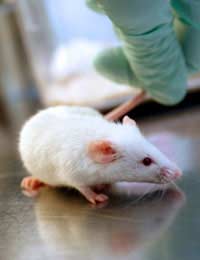 Animal protests have a long and turbulent history, from their emergence in the twentieth century to the last decade. Since the 1960s and 1970s, protests increased a great deal although they have fizzled out somewhat over the last several years. This is due, in part, to the fact that many of the more aggressive protesters have been arrested and several are behind bars. Extremists have unfortunately put a poor spin on animal testing protests through their dangerous and irrational actions. Fortunately, however, improved laws and regulation have helped to address the most volatile extremists in the area of animal testing protests.
Cosmetics Testing
The mid-twentieth century through to the 1980s saw a strong focus on protests against cosmetics testing. Large companies such as Revlon and Avon were targeted, with both eventually abandoning animal testing and adopting strong anti-animal testing policies. The abundance of media attention and protests also led up to the banning of animal testing for cosmetics purposes in several countries, including the United Kingdom (UK). In fact, the European Union is now poised for a near-full ban on animal testing for cosmetics by 2009, although there is opposition from a small number of countries such as France.
Leading Groups in Animal Testing Protests
The Animal Liberation Front (ALF) does strongly support illegal activism although they cite that it should be non-violent. Despite this stance, they have taken responsibility for literally several dozen attacks and hundreds of thousands in damages to facilities across North America.
One reason for the extremism is that numerous animal welfare groups, particularly ones such as People for the Ethical Treatment of Animals (PETA) believe that the use of force is appropriate because the 'ends justifies the means.' They cite that animal suffering is equivalent to human suffering, which means that a rat is no different that a person.
Huntingdon Life Sciences has been targeted quite frequently by animal rights activists over the years. Because Huntingdon uses a large number of animals each year, with many killed, they have been particularly vulnerable to protests and pickets. In 1997, protests by Stop Huntingdon Animal Cruelty occurred quite regularly. Pickets and threats to researchers were done to try to stop animal testing in the facilities. The group targeted not only the scientists and animal technicians, but also shareholders and others affiliated with the animal testing.
Because so much of medicine relies on animal testing, however, to actually be consistent in one's approach to animal protests would ultimately mean shunning most medical treatment today. This type of consistency would be difficult to maintain for even the most adamant animal rights activist.
Preventing Research
Protests against animal testing have actually kept companies from conducting research in the UK. Fear of threats, intimidation and disruption to the research has had an enormous impact on those who conduct animal testing, historically causing some to withdraw from the experiment and effectively 'give in' to the threats. Other firms have outsourced their animal testing to areas such as China, where animal testing regulations are poor and minimally - if at all - enforced. While animal welfare groups may consider this impact a victory, others cite that it only makes animal testing more poorly regulated because the testing will simply occur elsewhere. With the UK having some of the most - if not the most - stringent animal testing regulations in the world, the question of protests preventing testing from occurring in the UK is a crucial one.
Right to Protest
It is more likely those protests that involve intimidation and threats to the safety of researchers that ultimately prevent research from occurring on UK grounds. Hopefully, the public can continue to exercise their right to protest against animal testing but do so respectfully and peacefully. This should allow researchers to still feel some impact from the protests but not to the extent that they look to conduct research elsewhere under less rigid animal testing laws and regulations. It's important for the public to be able to challenge animal testing and draw attention to areas of weakness, while still allowing researchers to reflect on their actions without fear of continuing their research in the UK or elsewhere.
You might also like...
Hi guys, this site was very educational for my project
Mike Oxlong
- 18-May-23 @ 2:55 PM
Uhhhh idk if you know this but im looking for a sugare baby. I want a 2 feet tall, blue eyes, blonde, big ass, big hippes, big booobes and most of all above 60 years old. If you don't meet these standards I will hunt you down and kill you.
Sigma Male
- 23-Feb-23 @ 3:52 PM
@bby boy you deserve to be jailed for life you sinful person. you are probably a cross breed of shane dawson and paul breach. i can't believe this. i showed this website to my favourite slimy old art teacher and she just collapsed on the floor. idk what to do please help
money
- 23-Feb-23 @ 3:51 PM
Eary 30's ;) looking or a sugar daddy. I'm 5'0. I love watching sports and jacking off to Jojo Siwa posters. I like going to little league baseball games to watch the boys play with the dirty balls;) shane dawson is one of my biggest idols, I try my best to follow in his footsteps! I want a man that's gonna treat me right like the little pretty pink princess I am:)!
bby boy
- 21-Mar-22 @ 5:49 PM
If you don't like animals are being tested on why don't you go vegetarian because they do the exact same things that they do here to farm and worse I know testing is bad but it has done a lot for us and to admit it I kinda appreciate it because if it wasn't for animal testing we would still have polio, hepatitis.etc
penis
- 2-Mar-22 @ 2:36 PM
Yo animal testing is not important focus on mr beast that meat canyon
Testing on animals is vital for humans since humans will die if put on market before testing on animals.
????
- 16-Aug-19 @ 12:32 AM
i think that any sort of animal harming is digusting and is a disgrace to humans, i think that we should let ou vices be heard and stand up i have one exeption for animals and its in the comments, and its testing for medicine, but for one reason and that is that its gonna save countless lives for taking 3-4
fanny fart pussy tar
- 10-Jun-19 @ 11:18 AM
Over 100 million animals are killed annually for humans, it is unjust
Grey
- 29-May-19 @ 12:43 AM
I believe that animal testing is okay if its being done for scientific purposes because it will benefit millions of generations after us. Although, if they are using animals to test makeup, cleaning products, food, or anything else other then science, I find it to be a disgrace.
Person
- 6-May-19 @ 10:07 PM
I think animal testing is a disgrace to the human race
King Heiny :D
- 26-Jun-18 @ 1:59 AM
Testing on highly evolved species at best is still questionable.Viewing undercover footage of torture and flat out animal abuse in Canada at ITR Laboratories is quite another. Protests should happen in the name of swiftly bringing this operation to a cease and desist.ANIMAL ABUSE behind public view.
Kiki
- 15-Mar-17 @ 2:01 AM
you guys are right on animal testing. its so cruel and inhuman for the animals
becky
- 13-Dec-16 @ 3:08 PM
I believe that hypocrisy should stop. The worst enemy is our ignorance as human beings. People should be toöd and shown how their cosmetics get in store and their food on the table. It s our right to know. Once we see what s behind the scenes, then it is up to each individual s conscience if and how to take action. We need to stop closing one eye because it s more comfortable. At the end it s about protecting the innocent and, like children, animals are also innocent beings.... Protect them!
Dr. Zak
- 3-Aug-16 @ 4:57 PM
I am against animal testing.Just look up the statistics and some pictures and you'll see why.
we are doing a an argument and persuasion essay and discussion in class about this very topic, so all this information is very useful. Thank you
silver
- 14-Nov-14 @ 7:40 PM